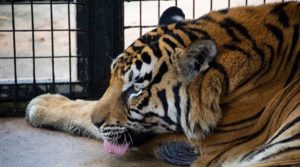 Corporal Quintus Rama – a Bengal Tiger and the mascot of 'The Tiger Battalion", 5th Battalion, Royal Australian Regiment – passed away yesterday.
CAPTION: Corporal Quintus Rama is far-welled by members of the Tiger Battalion with a small military ceremony on 2 May 2019, attended by the CO, RSM and other members of the 5th Battalion.
The 17-year-old tiger was enlisted on 27 September 2012 as mascot for 5RAR to fill the role left vacant by the death of Quintus Septimus Sabre in December 2010.
He was the first mascot to exclusively represent 5RAR since it delinked from the 7th Battalion in 2006. In a Facebook post uploaded today, 5RAR said it was with great sadness it shared the news of the passing of Corporal Quintus Rama on 2 May 2019 at 17 years of age.
"Corporal Quintus Rama lived at the Northern Territory's Crocodylus Park tourist attraction and was seen on parade with the Tiger Battalion on special occasions – such as when the battalion exercised its Freedom of Entry to the City of Darwin to mark its 50th anniversary, in November 2015. He also participated in the battalion's ANZAC Day parades.
As the battalion mascot, Corporal Quintus Rama was a beloved member of the unit and its supporting families who came to know him over the years at Crocodylus Park.