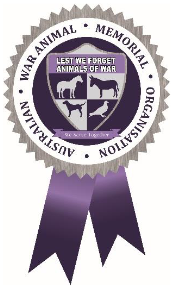 AWAMO sees education especially to youth as a vital project to ensure the deeds of animals is known or not forgotten. AWAMO donates to war animal re-enactor groups that help educate Australians on the role animals played in war.
AWAMO President Nigel Allsopp, and Vice President of Redland RSL Ian Grey, presented several donations at the ANZAC Day parade at Cleveland recently. AWAMO would like to thank Redlands RSL for their continued Administrative support and a special thanks to Pine Rivers National Serviceman's Association who jointly donated funds with AWAMO allowing both financial and material support to "living" animal associations.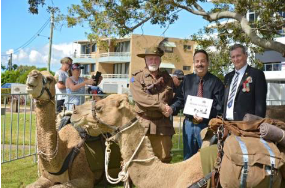 AWAMO donated several uniforms to Camel Corps re-enactors and some fiscal funds to assist in their display attendance. President of AWAMO stated "it is so important to show that Camels and other animals served in WWI not just horses".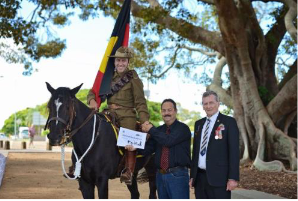 AWAMO presenting the Australian Army Veterinary Corps Troop (AAVC) with four WWI designed saddles for the Troop. President of the AAVC Troop Peter McLaughlin said these additional saddles will help new members and the next generation of kids to ride with the Light Horse Troop.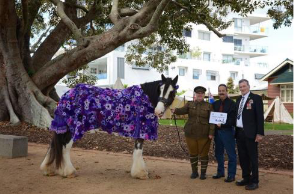 AWAMO presenting Alexa Waldau with a donation to keep AWAMOs heavy horse representative "Pilot" fit and healthy. Pilot is a great ambassador for his breed and shows the public the real work horses of the AIF were the Heavy equines that did all the logistical work.
EDUCATIONAL MATERIAL
Apart from financial support AWAMO over the last few years has donated approximately 3000 books to Libraries, Qld Education Dept, Ronald MacDonald House, Various Children's Hospital throughout Australia and numerous other charities, Universities and historical societies.
Books have also been donated to various RSLs and Veterans groups for them to sell to help raise funds for their own projects such as Assistance dogs and veteran support.
In addition, A Centenary of War Animals and Cry Havoc -The History of war dogs have been donated to Vision Australia for conversion to the vision impaired. Likewise, the book and Children's book Purple Poppy have been donated to the NZ Blind Foundation.
Nigel Allsopp is a Military Veteran, Historian and Published Author, many of his books and works are held at some of the World's most prestigious military institutions. These include:
❖Sandhurst Military Academy-UK
❖Imperial War Museum-UK
❖Royal Army Veterinary Corps Library-UK
❖West Point Military Academy Library-USA
❖National WII Museum-New Orleans-USA
❖US Marine Corps Library Quantico-VA-USA
❖National Army Museum-New Zealand
❖Duntroon Military Academy-Australia
❖Australian War Memorial
❖Plus-Numerous Schools, Rotary, Lions groups and charities.
AWAMOs webpage has a selection of historical images, documents and educational material for Primary students to University level studies all free to download. In2019 the NZ Education Department officially adopted two children's books written by Nigel on the history of NZ War animals. Contents are also used by the National Army Museum in NZ for online education.