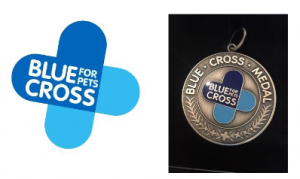 The organisation was founded on 10 May 1897 in London as Our Dumb Friends League, to care for working horses on the streets of the British capital. It opened its first animal hospital, in Victoria, London, on 15 May 1906. The Blue Cross Award was instituted for bravery and selflessness of these animals in fighting alongside the men of their country. Today awards are presented to pets and working animals for outstanding deeds to mankind. In 2017 Blue Cross UK asked AWAMO to represent it in both Australia and New Zealand. Since that time AWAMO have awarded the prestigious medal to a WWI war dog Digger from Australia. A WWI horse Bill the bastard from Australia. Likewise, a New Zealand WWI dog Caesar and a WWI war horse Bess have also received the Blue Cross. Prior to any formal announcement Blue Cross UK must approve the A&NZ awards. Blue Cross A&NZ use the same process and guidelines as the UK. Its selection committee is made up of defence, Emergency Service, Veterinarians and members of the public to ensure a fair selection process. For more details view: https://www.bluecross.org.uk/warhorse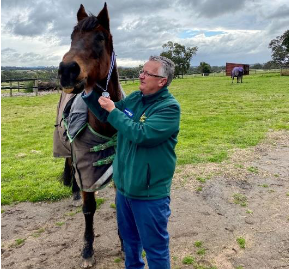 Former police horse and Doomben champion Chief De Beers has passed away peacefully at the age of 28,just days after being presented with a prestigious Blue Cross Medal for his service to the community.In addition to his extraordinary contribution as a police horse, 'life after life after racing' saw Chief become a very popular racing ambassador with fans of all ages from primary school students to visiting residents at seniors' homes.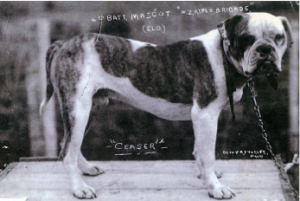 On Monday, 27 February 2019 at the National Army Museum, Waiouru New Zealand a Blue Cross Medal was awarded to Ceaser, a bulldog who was the first New Zealand dog to serve this country in war. He embarked with A Company, 4th Battalion of the NZ Rifle Brigade in February 1916. He is New Zealand's first recipient of the Blue Cross Medal, an award for bravery. His name was misspelt originally, and so it remains: Ceaser, not Caesar.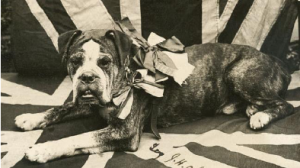 On Saturday 29 June at the West Croydon RSL in South Australia, Digger a WWI dog that served at both Gallipoli and on the Western Front was awarded Australia's first Blue Cross Award.Digger, a dark brown and white bulldog. Digger 'went over the top' 16 times and had been through some of the worst battles on Gallipoli and the Western Front. He had been wounded and gassed at Pozieres in 1916, shot through the jaw, losing three teeth, was blinded in the right eye and deaf in the left ear. At the sound of a gas alarm, it was reported that Digger would rush to his nearest human companion to have his gas mask fitted. There are also accounts of how Digger would take food to wounded men stranded in no man's land, sometimes bringing back written messages.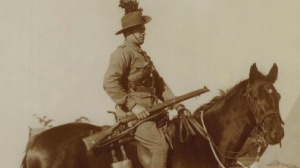 Bill the Bastard' was the first Equine in Australia to receive the UK Blue Cross Award. Billa 'Waler', a hardy type of horse bred under the extreme climate and challenging working conditions of Australia. Bill was a massive 17.1 hands high, weighed approximately 730 kg and had strength and intelligence unmatched by any others of his breed. Bill's heroic efforts and exceptional instincts in battle, saved the lives of his rider and four other troopers at the Battle of Romani. Bill carried the 4 Tasmanian troops over 3km to safety from the Turkish Soldiers.