All proceeds from the sale of our merchandise goes to help create memorials to honour War Animals.
All stock is available online at www.purplepoppies.com.au .
Please also visit and like our Purple Poppies Facebook page:  https://www.facebook.com/purplepoppies.
AWAMO asks that when buying a poppy, firstly support our soldiers (the two legged diggers) and buy a red poppy as well.  Throughout history, in war and in peacetime, animals and mankind have worked alongside each other.  As beasts of burden, messengers, protectors, mascots, and friends, the war animals have demonstrated true valour and an enduring partnership with humans.
Bank Details
Bank : Westpac Banking Corporation
BSB : 034 139
Account : 221639
Account Name : Australian War Animal Memorial Organization Inc.
PURPLE POPPIES are now available at these locations:
QUEENSLAND
Cook Town RSL
Website : www.cooktownrsl.com
Phone : (07) 4069 5780
Innisfail RSL
Website : www.innisfailrsl.com.au
Diggers Services Club
Website : www.diggersservicesclub.com.au
Perfect Paw Treats
Facebook : www.facebook.com/pawfecthomemadetreats
Redcliffe RSL
Website : www.redcliffersl.com.au
Phone : (07) 3897 6000
Redland Bay RSL
Website : www.redlandsrsl.com
Santina Lizzo (Cairns Area)
Phone : 40 653 231 (H), 0438 617 435 (M)
Both numbers after 5 would be appreciated
VICTORIA
German Shepard Dog Club
Website : www.gsdcv.org.au/
Great Southern Land Collectables
Website :  www.greatsouthernlandcollectables.com.au
Phone : 03 9762 6278
SOUTH AUSTRALIA
Great Southern Land Collectables
Website :  www.greatsouthernlandcollectables.com.au
Phone : 03 9762 6278
NSW
Talkingstones
Tel: 1300 606 605
Website : www.talkingstones.com.au
Ashley Rostron
3 Martha Crescent
Cranebrook
NSW 2749
WESTERN AUSTRALIA
Byford Veterinary Hospital
2 Clifton St, Byford   WA 6122
Tel:  (08) 9525 0000
Fur Baby Grooming & Dog Day Care
29/386 Wanneroo Road, Westminster WA 6061
Tel: 07 9440 6690
Email: woof@furbaby.com.au
Website: www.furbaby.com.au
I heart dog
Mount Hawthorn, WA 6915
Website : www.iheartdog.com.au

NORTHERN TERRITORY
Jason Davies
The Furry Godmother Pet Resort
Tel : 08 8945 7766
E-mail : jason@furry.com.au
Website : www.furry.com.au
TASMANIA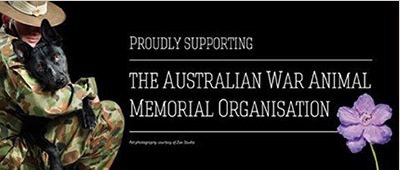 Purple Poppies are available from the following locations in Australia, New Zealand and the USA:
VICTORIA
Anglesea RSL Sun Branch – 0412 621 328
Avenel RSL Sub-Branch – 0429 962 398
Australian Stamp & Coin Company – (03) 9878 3411
Boronia RSL Sub-Branch – 0408 532 882
Canine Museum Trust – (03) 5998 2400 Claws 'n' Paws Pet Supplies – (03) 9036 1729 Cobram/Barooga RSL – (03) 5873 2442
Cockatoo RSL Sub Branch – (03) 5698 8053
Coleraine RSL Sub branch (03) 5575 2236 Dunolly-Bealiba RSL Sub Branch – 0427 524 730 East Gippsland Dog Obedience Club Inc – 0428441546
Ensay-Swifts Creek RSL Sub Branch – 0439 22 712
Heathcote RSL Sub Branch – 0417 865 795 Koondrook RSL – (03) 5453 2616 Lang Lang RSL Sub Branch (03) 5997 5226
Leongatha RSL – (03) 5662 2012 Light Horse & Field Artillery Museum – (03) 5942 5512 Maryborough RSL Sub Branch – (03) 5460 4002
Melton RSL Sub Branch – 0419 874 452 Moe RSL – (03) 5127 1007
Myrtleford RSL Sub-Branch – 0409 103 538
Newport RSL Sub Branch – 0419 509 868 Orbost RSL – 03 5154 2171 Pakenham RSL Sub Branch – (03) 5941 2404
Portland RSL Sub Branch – (03) 5523 1412 Patties Pies Ltd – (03) 5150 1825 Sea Lake RSL – (03) 5078 1224 Shrine Of Remembrance – (03) 9661 8119 Tatura RSL Sub Branch – (03) 5824 1398
Traralgon RSL Sub-Branch – (03) 5174 2035 Upper Beaconsfield RSL Sub Branch – (03) 9707 5420
Werribee RSL Sub-Branch – (03) 9741 5525
Yarram RSL Sub-Branch – 0429 851 446
Yea RSL Sub Branch – (03) 5797 3305
NEW SOUTH WALES
Ballina RSL Sub Branch (02) 6686 2544
Cardiff RSL Sub Branch – (02) 4953 7940
Doyleson-Wyee RSL Sub Branch – (02) 4390 0622
Forbes RSL Sub-Branch – (02) 6852 1488
Greta RSL – 0408387213 Kurri Kurri RSL – (02) 4937 2387
Macarthur Gardens Retirement Village – (02) 4604 2147
Mittagong RSL Sub Branch – (02) 4871 1218
Nambucca RSL Sub Branch – (02) 6568 6288
Narooma RSL – 0418 214 324 P.A.W.S Aust. Rescue – 0421 495 059
Pozieres Remembrance Society – (02) 6651 5687
Purplepoppies.com.au – 1300 404 467
Toukley RSL Sub Branch – (02) 4396 4855 Warilla RSL Sub Branch – (02) 4296 1165
ACT Australian War Memorial – (02) 6243 4555
SOUTH AUSTRALIA
Ceduna RSL Sub Branch – (08) 8625 3764
Freeling RSL Sub Branch
Gawler RSL Sub Branch – 0422 949 409
Gillies Plains – Hamstead RSL Sub branch – 08 8337 2086
Glynde RSL Sub Branch – ( 08) 8336 2787
Legends & Lessons – (08) 4930 1630
Mt Barker RSL Sub Branch – (08) 8391 4845
Port Augusta RSL Sub Branch – 0419 845 400
Port Vincent RSL Sub Branch – (08) 8853 7191
Roberstown RSL Sub Branch – (08) 8581 7100
Salisbury RSL Sub Branch – (08) 8258 6016
Tumby Bay RSL Sub Branch – (08) 0688 2495 Two Wells RSL Sub Branch – (08) 8520 2826
Wallaroo RSL Sub-Branch – (08) 8823 2807 West Croydon & Kilkenny RSL – (08) 8346 4855
TASMANIA
Bridport RSL Sub Branch – (03) 6356 1146
Brighton-Green Ponds RSL Sub Branch – 03 6268 6196
Burnie RSL Sub Branch – (03) 6431 3955 East Coast Vet Clinic – (03) 6376 1577
Esperance RSL Sub-Branch – (03) 6298 1799
Glenorchy RSL Sub-Branch – (03) 6272 6920 Huon RSL Sub Branch – (03) 6264 2034
Launceston RSL Sub Branch – (03) 6344 9584
Latrobe RSL Sub Branch – (03) 6426 1255
St Helens – St Marys RSL Sub Branch 0427 026 500
Ulverstone RSL sub Branch – (03) 6425 1942
WESTERN AUSTRALIA
Bakers Hill RSL Sub Branch 0428 612 480
Boulder RSL Sub Branch – (08) 9022 7246 Byford Veterinary Hospital – (08) 9525 0000
Fur Baby Boutique & Cafe – (08) 9440 6690 Kwinana RSL – (08) 9419 71
National Anzac Centre (Fort Store) – (08) 6820 3128
Pinjarra RSL – (08) 9590 5423
South Street Pet Supplies – (08) 9337 8599
Victoria Park RSL – (08) 9361 8802
Wanneroo-Joondalup RSL Sub Branch (08) 9409 6263
Yanchep Two Rocks RSL Sub Branch
QUEENSLAND
Australian War Animal Memorial Organisation
2nd Lockyer Light Horse Troop
5th Light Horse Regiment Maleny Troop
Beenleigh Logan Nasho's – (07) 3807 4382
Beerwah & District RSL Sub Branch – (07) 5438 7221 Boyne Island-Tannum Sands RSL – (07) 4973 7458 Bray-Park Strathpine RSL – (07) 3889 9689 Bundaberg RSL Sub Branch – (07) 4132 6512 Calliope RSL – (07) 4978 5621 Capricornia & Rockhampton Region RSL – (07) 4928 7608
Coolum-Peregian RSL Sub Branch – (07) 5446 2588 Cooroy-Pomona RSL Sub Branch – (07) 5447 7496
Crows Nest RSL Sub-Branch – (07) 4697 9225 Darra & Districts RSL Sub Branch – (07) 3372 1458 Deception Bay RSL Sub Branch– (07) 3293 2005
Deception Bay, Peninsula & Districts N.A.S.S.A (Q) – (07) 331 330035
Diggers Services Club – (07) 3208 8122 Emerald RSL Sub Branch – (07) 4987 4555
Forest Lake RSL Sub-Branch – (07) 3818 3837Forest Lake RSL Sub-Branch – (07) 3818 3837
Geebung – Zilmere RSL Sub Branch – (07) 3265 3711 Gladstone RSL Sub Branch – (07) 4972 8372
Goodna RSL Sub Branch – (07) 3288 3916
Gordonvale RSL Sub Branch – 0417 728 534
Greenbank RSL Sub Branch – (07) 3380 0270
Hervey Bay RSL Sub Branch – (07) 4197 7444 Hughenden RSL Sub Branch – 0427 332 559
Isis RSL Sub Branch – (07) 4126 1354
Jimboomba RSL Sub Branch – 0478 009 980 Killarney RSL Sub Branch – (07) 3408 6585
Kuranda RSL Sub Branch – (07) 4093 7143 Laidley RSL Sub Branch – (07) 5465 1738
Mary Valley RSL Sub-Branch – (07) 5484 5245 Maura RSL Sub Branch – (07) 4997 2107 Milne Bay Military Museum – (07) 4631 4482
Mirani RSL Sub Branch – (07) 4959 1465
Moura RSL Sub Branch – (07) 4997 2107
Mudgeereba-Robina RSL Sub Branch – 0429 872 774
Mundubbera RSL Sub Branch – (07) 4165 4242 NSSA Pine Rivers – 0415 558 074
Pine River & District RSL Sub Branch – (07) 3285 8022
Pittsworth RSL Sub Branch – 0457 171 102 Redcliffe RSL – (07) 3897 6060
Redlands RSL Sub Branch – (07) 3488 1105 Rollingstone RSL – (07) 4770 7058 Rosewood RSL Sub Branch – (07) 5464 2628
RSPCA (QLD) – (07) 3426 9999
Sandgate RSL Sub Branch – (07) 3269 1135
Southport RSL Sub Branch 0 (07) 5552 4214 Stephens RSL Sub Branch – (07) 3391 7734
Sunnybank RSL – (07) 3344 7423
Tiaro RSL Sub-Branch – (07) 4129 6270
Tamborine Mountain RSL Sub Branch – (07) 5545 3476 Tara RSL Sub Branch – (07) 4669 1111
Taroom RSL Sub Branch – 0448 757 218 The Clinic Wellness Centre – 0412 747 529
Theodore RSL Sub Branch – 0427 432 471 Tiaro RSL Sub Branch – (07) 4193 9340
Toowoomba United RSL – 07 4632 3506
Walerstone-Pleystowe RSL Sub-Branch – (07) 4959 2822
Yandina Eumundi RSL Sub Branch (07) 5472 7056
https://www.facebook.com/thebluehousecanungra/
NEW ZEALAND
Auckland War Memorial Museum – 9302 9764
Bluff RSA – 3212 8883
Feilding RSA – 027 231 0482 Hibiscus Coast Community RSA – 09 424 9026 Huntly RSA – 07 828 9732 Kaiapoi RSA – 272 658 711 Karori RSA – 04 232 4065 National Army Museum Gift Shop – 06 387 6911 Ngaruawahia RSA Memorial Club – 07 824 8905
Papanui RSA – 03 352 1185 Picton RSA – 03 573 6114 South Taranaki RSA – 06 278 4018
Sumner Redcliffe RSA – 326 6242 Waihi Women's Section RSA – 078637690
Waiuku RSA – 09 235 7518
USA
The United States War Dog Association 609 747 9340
Bahary Studios 415 531 9212
Our International sellers
New Zealand- 
Capt Bruce Page NZ Army-  bruce.page@nzdf.mil.nz
National Army Museum – https://www.armymuseum.co.nz/shop/badges-pins-pocket-patches/
USA- 
Susan Bahary – https://baharystudios.com/art/product/monument-pin/ 
UK-  https://www.thewarhorsememorial.org/products/      susan@thewarhorsememorial.org