This Remembrance Day please add a Purple Poppy and show your respect for the service and sacrifice of all animals, great and small, that have served beside humans in war.
From the trenches of the Western Front to the deserts of Afghanistan they serve without question.
"Every sale supports th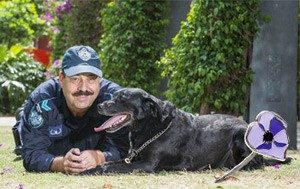 e Australian War Animals Memorial Organisation,
both for our work to create lasting tributes to all war animals,
and also the work we do looking after veteran dogs and in training dogs
to support our diggers living with PTSD." Nigel Allsopp founder of AWAMO
Purple Poppy products are available from many local RSL & Legacy Remembrance Day fundraising stalls or can be purchased online.
A Cuddle to Remember

Donkey, Camel, Doggy and Horsey are super cute and cuddly and each proudly carries an embroidered purple poppy badge. ONLY $9.95
PURPLE POPPY KEY RING     PURPLE POPPY MEDALLION
Key or Schoolbag Tag with enamel poppy and animal charms. ONLY $10.00
Four Purple Poppy 48mm medallion sandblast finished with rich enamel. ONLY $10.00
PURPLE POPPY LAPEL                PURPLE POPPY COOLER
25mm badge in silver and enamel to wear any day you care. ONLY $5.00
Purple Poppy Cooler in quality neoprene. ONLY $10.00