On Saturday 29 June at the West Croydon RSL in South Australia, Digger a WWI dog that served at both Gallipoli and on the Western Front was awarded Australia's first Blue Cross Award.
Diggers Story:
Digger, a dark brown and white bulldog. Digger accompanied his owner, Sergeant James Harold Martin, during his service overseas and is said to have served three and a half years with the AIF. Martin, an electrician from Hindmarsh in South Australia enlisted on 18 September 1914, at the age of 22. Digger seems to have been a stray dog that attached himself to soldiers training at Broadmeadows and followed them down to the troopships. Martin adopted him as a mascot and he and Digger sailed from Melbourne on 20 October 1914. Martin served initially with 1 Division Signal Company on Gallipoli but transferred to 2 Division Signal Company in July 1915. He remained with the company, attached to the Engineers, during his service on the Western Front in France and Belgium. Digger's remarkable service is described how Digger 'went over the top' 16 times and had been through some of the worst battles on Gallipoli and the Western Front. He had been wounded and gassed at Pozieres in 1916, shot through the jaw, losing three teeth, was blinded in the right eye and deaf in the left ear. At the sound of a gas alarm, it was reported that Digger would rush to his nearest human companion to have his gas mask fitted. There are also accounts of how Digger would take food to wounded men stranded in no man's land, sometimes bringing back written messages.
Martin returned to Australia on 12 May 1918 and was discharged medically unfit. Digger accompanied him as strict quarantine regulations relating to the arrival of dogs in Australia from overseas did not come into force until June 1918. He and Digger settled in Sydney. Upon their return to Australia, Sergeant Martin and Digger continued to do their bit for the war effort by attending ceremonies and marches in support of recruitment, fundraising and returning men.
Digger had been wounded and gassed at Pozieres in 1916 and needed cod liver oil for his burns. This was expensive so a picture postcard of Digger, wearing the inscribed silver collar made for him on his return to Australia, with patriotic red, white and blue ribbons attached to it, was produced and the money realized from its sale used to buy the oil. It is said that the dog was also presented with a free tram and rail pass so that he could accompany Martin. Digger died, as an old dog, on Empire Day (24 May – year not known) when he was frightened by the celebratory fireworks. Thinking he was under fire again he attempted to jump the fence but failed and fell back with a burst blood vessel. Digger managed to crawl back into the house and died on Martin's bed. Martin was in the Prince of Wales Hospital at Randwick at the time, but he arranged through Mrs J A Little, a volunteer who visited the hospital twice a day to the help the soldiers there, to have Digger's hide tanned. This is at the Australian War Memorial, Canberra.
The Blue Cross is a registered animal welfare charity in the United Kingdom, founded in 1897 as Our Dumb Friends League.
Today the charity provides support for pet owners who cannot afford private veterinary treatment, helps to find homes for unwanted animals, and educates the public in the responsibilities of animal ownership. Uniquely medals have been awarded by Blue Cross to animals and people who have demonstrated bravery or heroism. In 1912, the league launched The Blue Cross Fund to care for horses during the Balkan War. During the First World War in 1914, the Blue Cross Fund had raised nearly £170,000 – the equivalent of almost £6.5 million today to care for the animals during the conflict. Over 50,000 horses were treated in Blue Cross hospitals in France, and the charity had sent vital
veterinary supplies to 3,500 units of the British Empires Army's
During the Second World War donations to the Fund enabled the charity to care for more than 350,000 animals, many of who were wounded during the Blitz.
A panel of judges awarded Digger the Blue Cross Medal for coming to the aid of human life. The ceremony was attended by approximately 100 people with VIPs attending from both State and Federal Governments.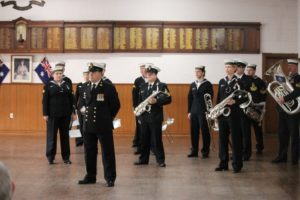 The Navy provided the band and the Air Force an honour guard of serving Military Working Dogs.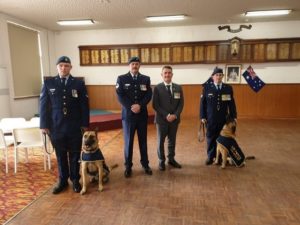 Major Kendall Crocker Veterinary Officer of the ADF was MC for the event, flanked by serving RAAF Military Working Dog handlers.
Several members of Sgt Martins family attend the event and the medal and certificate was handed over to Sgt Martins Grandson Rex Hoskins.
At the end of the ceremony 50 pigeons were released and a stand-in Digger look alike was photographed with the Blue Cross Award around his neck. The RSL provided a beautiful cake depicting Digger which is an image from a WWI postcard made at the time to raise war funds.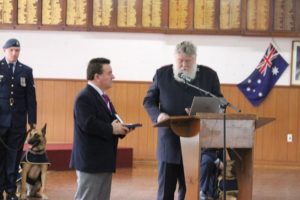 The medal was blesse by the RSL Padre, being held by Hon Frank Pangallo MLC South Australian Government.
Nigel Allsopp presented the Blue Cross medal to Rex Hoskins -Grandson of Sgt Martin-Diggers Handler. Nigel Allsopp acted on behalf of UK Blue Cross and is President of the Australian War Animal Memorial Organization AWAMO. Nigel recently presented New Zealand's first Blue Cross Award on behalf of Blue Cross UK last month at the NZ Army Museum, Waiouru.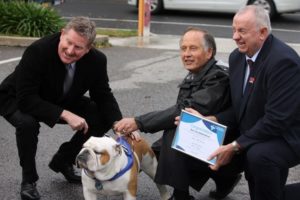 Hon Terry Stevens MLC Gov Whip- SA Government with Bull dog Buble and Rex Hoskins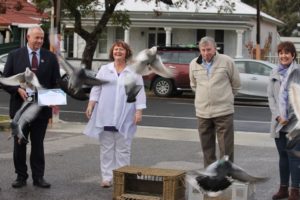 Rex Hoskins with medal and certificate as Wendy Harrison AWAMO and Julie Allsopp AWAMO release pigeons at the end of the ceremony to honour Digger.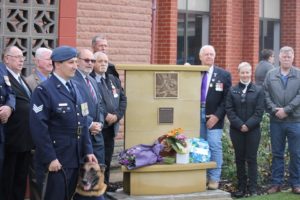 Members of the RAAF Military Working Dog Association lay tribute to the Digger memorial which is outside the West Croydon RSL.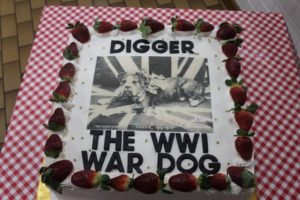 Diggers cake – image from a WWI postcard.