On the 8 th June 2018 President of the Australian War Animal Memorial Organization
(AWAMO) and 2017 ANZAC of the year Nigel Allsopp attended the United Kingdom's War
Horse memorial opening at Ascot Race Course England.
Nigel was contacted last year after he opened the WWI War Animal memorial at Pozieres
France which he had been instrumental in establishing to act as the Australian Ambassador
for Equines at the UK event.
Nigel laid a wreath at the opening and was asked to address the VIPs at the reception at Ascot
afterwards. A video message was delivered by the British Prime Minister and letter read out
from HRH The Queen by her Pageant master Bruno Peek LVO OBE OPR.
The event was attended by many VIPs, Actors and Ambassadors from NZ, Canada, USA and
France, plus several members of Parliament and the head of the House Hold Cavalry.
Nigel was approached by UK Parliament Minister Adam Afriyie MP who chairs the
Parliamentary Office of Science & Technology (POST) and the Financial Technology APPG,
on advice on how the UK could honour war animals via a medal.
Nigel was interviewed by the BBC after the ceremony and a documentary crew who were
making a film on the event.
A national memorial dedicated to the millions of horses, mules and donkeys which died
during World War One has been unveiled in Ascot. The bronze statue took four years to
make; people came from all over Britain and as far afield as Australia and New Zealand to
show their support for the sacrifices the animals gave during the conflict.
The bronze war horse weighs 1.5 tonnes and stands on a three-metre high stone plinth, in the
middle of a roundabout in Ascot high street. During the unveiling, a minute's silence was
held as a mark of respect. Underneath lies a sealed chamber which contains significant
artefacts from the Great War. The memorabilia includes medals, coins and buttons collected
from across the UK and even barbed wire from No Man's Land. AWAMO supplied an
artefact from Queensland's Australian Army Veterinary Corps (AAVC) Troop. The sculptor,
Susan Leyland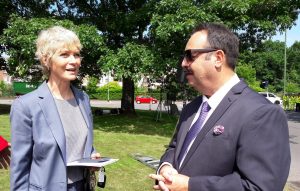 Mane Chance was set up in 2011 by actress and founding trustee Jenny Seagrove (pictured above)
out of crisis. But, as sometimes happens in life, from out of a crisis beauty grows. Mane
Chance has a herd of rescue horses and they are an example to anyone who wishes to visit the
sanctuary the kindest and most considerate of keeping equines. Their horses are partners.
They are teachers and healers. AWAMO President and Jenny at the War horse ceremony.
AWAMO is assisting her charity with purple poppy info and samples.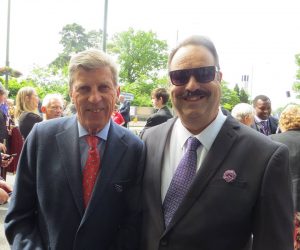 I had the honour of meeting Brough Scott MBE grandson of Warrior's owner General Jack
Seely- The real War Horse Warrior.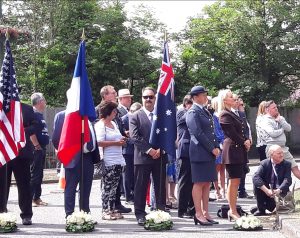 Ambassadors from all Commonwealth and Allied Forces paraded with their Nations Flag all laid a wreath.