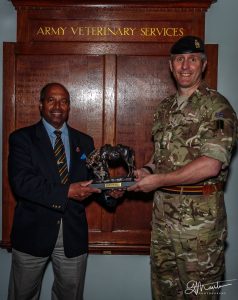 At a recent reunion at the Defence Animal Training Regiment, Melton Mowbray for ex RAVC members, Lt Col A. DuBaree Regt Sec RAVC presented the Commanding Officer, Lt Col Martyn Thompson with the Horse Figurine that was kindly donated by the Australian War Animal Memorial Organisation.
AWAMO have a long tradition with the RAVC who have supported AWAMO at memorial openings internationally.
The Australian Light Horse figurine which is available from the Military Shop, Canberra will be on permanent display at the RAVC Headquarters.