Over eight years ago AWAMO began donating care packages to operational
Military Working Dogs (MWD) in East Timor, the Solomon's and Afghanistan.
These contained a few comforts from home, for the handler and dog.
A new ball, chew toys, food treats and in 2005 we sent each dog a winter coat in Afghanistan.
In 2017 AWAMO began a care package for domestic veteran MWD- whose owners could not afford some
comforts for their dog. Alas it's a fact a number of veterans are on the poverty line but still have a canine
companion and mate.
These parcels contain a new lead, food bowl, worming and flea medication, dog shampoo,
teeth cleaning chew toy and some treats for the dog- finally a donated handmade blanket or dog coat.
AWAMO acknowledges Redlands RSL in QLD for administrating the issue of these packages to veterans.
With Xmas approaching AWAMO in cooperation with your organisation could make a difference
to veteran dogs and their families by saying:
"Thanks for your Service" – via a gift box at Christmas.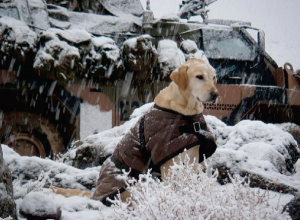 It will contain many of the items listed above plus a personal message you would like to deliver.
It may be impossible to return a thank you but every effort will be made to photograph recipients.
This is just one area you can help and say thank you.
AWAMO runs several projects to assist Veteran dogs and Animal projects that assist our human Veterans.
These can be viewed on our web page – www.awamo.org.au
Any donations remaining after Xmas will be used for one of these assistance projects.