AWAMO PATRONs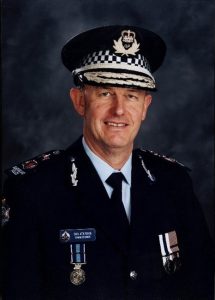 Robert (Bob) Atkinson, Commissioner, Queensland Police Service, 2000-2012. Commissioner, Royal Commission into Institutional Responses to Child Sexual Abuse, 2013-2017. Advisor, Youth Justice to the Minister for Child Safety, Youth Justice, Women and Domestic Violence (Queensland), 2018.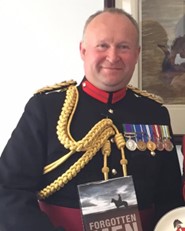 Dr Neil Smith Honorary Colonel Commandant, Royal Army Veterinary Corps (RAVC) BVetMed MSc MA FRCVS. Neil also holds the appointment of the Queen's Honorary Veterinary Surgeon.
RSPCA & Blue Cross Representative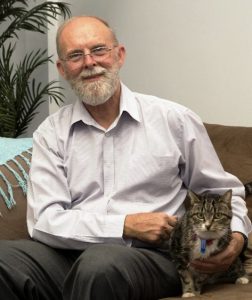 Graham Carter is the Honorary Curator of the Qld RSPCA and an AWAMO Ambassador. Graham served in the ADF and is a well known and respected animal rights campaigner. Graham is also AWAMOs Secretary for the Blue Cross Awards in Australia and New Zealand.
Major Kendall Crocker ADF Veterinary Officer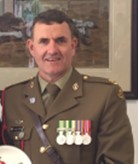 Kendall has a long-time association with AWAMO. He holds a position in the ADF as a Veterinary Officer as well as owner of a private practice. Kendall is also the Patron of the Australian Army Veterinary Mounted Troop (AAVC) which has close associations with AWAMO. Kendall started his military career as a Commando and has been deployed to Afghanistan and other overseas positions.
AWAMO VICE PRESIDENT, YOUTH EDUCATION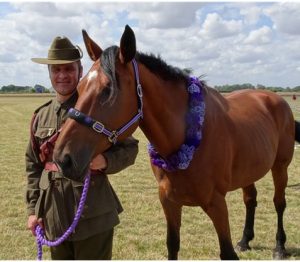 Peter Kotzur is a full-time employee of the Toowoomba City Council. Peter has previously served in the Australian Defence Forces. Peter brings to AWAMO a great deal of military expertise and historical research experience. Peter is well known in the local area for his volunteer work with Social Services including his work with the Veterans Group and aiding troubled youth.
 AWAMO Secretary Ian Gray
Vice President Redland RSL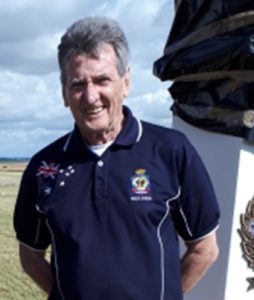 Ian is the AWAMO Secretary and assists in the administration of the AWAMO Webpage. Ian is a vital member of AWAMOs Executive team. He has served in the ADF and a well-respected community member and Deputy President of Redlands RSL. ian.gray38@optusnet.com.au
AWAMO Treasurer
Wendy Harrison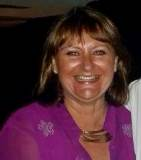 Wendy is AWAMOs financial expert having worked in design and administrative industry including accountancy with her family business for many years.
AWAMO Administration and Media officer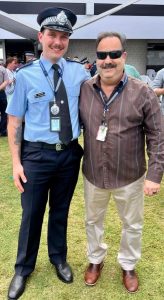 QLD Police Constable Darcy Skimmings gained a keen interest in the AWAMO charity whilst been trained at the police academy by AWAMO president Nigel Allsopp, since then Darcy has become AWAMO's official media officer and administration officer who helps manage AWAMOs many online webpages and social media platforms.
 AWAMO PADREs
Reverend Denise Ferguson and Principal Chaplain (Brigadier) (Rtd) Monsignor John Butler AM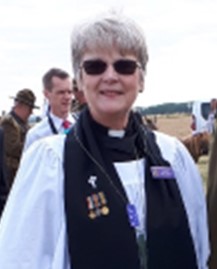 Denise is the assistant Bishop of Adelaide. Previous Archdeacon of Moreton, Brisbane has a wide range of experience at both diocesan and parish level in New Zealand. Denise officiated at the Pozieres war animal memorial opening- blessing the New Zealand and all Nations memorials.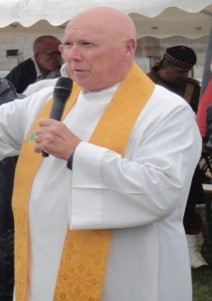 Monsignor John Butler has retired from the ADF and was the principal Chaplin at Pozieres where official blessed the ground and Australian war animal memorial.
MILITARY WORKING DOG ADVISORS

Ray Thomas president of the RAAF Military Working Dog Association. Ray is an AWAMO Ambassador and President of Australia's largest Military dog association. Ray served as a dog handler and Instructor in the RAAF for over three decades. He is highly regarded as an expert in war dog matters; AWAMO consults Ray on this subject.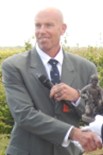 Horst Reiter a long serving member of the ADF Special Forces, Horst is the project manager of AWAMOs Veteran War dog fund. The funds have been used ranging from purchasing medication, payment of veterinary bills and the supply of dog items that aid comfort- such as bed coat and toys. Finally, we have funded the costs of cremation and honouring them with a burial head stone. We have an agreement with Master Pets who are currently providing a range of their special Black Hawk dietary foods.
EQUINE ADVISORS
Lawrence G Watts. FAIM.MAICD.MAIPM.MQJA.JP(Qual).
President of the Australian Light Horse Association Limited – www.lighthorse.org.au  and President of the AAVC Troop, Qld. Past President of the 5th Light Horse Regiment Maleny Troop and past President of the SEQ QH Association and Quarter Horse and Santa stud breeder. Team member representing Australian Light Horse at the 2001 and 2004 Calgary Stampede and again in 2005 Stampede rode with the Canadian Alberta Light Horse.
Peter McLaughlin
President Mudgeeraba Light Horse Museum. Senior Rider Qld Outback spectacular. Team member representing Australian Light Horse at Calgary Stampede. Team member AAVC Troop at Norco Day of the cowboy event -California, USA.
Chris Kennedy
Retired NSW Mounted Police. Team member AAVC Troop at Norco Day of the cowboy event -California, USA.
POLICE DOG & MOUNTED LIAISON OFFICER

Sgt Greg Hill has served in the Queensland Police Service as a Firearms and Explosive Detection dog supervisor for many years.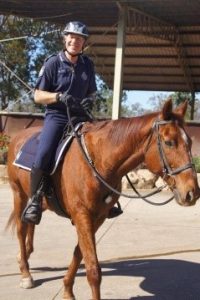 Sgt Roy Mientjes has spent several decades as a SNCO in the Queensland Mounted Police. Roy is a member of the California Mounted Officers Association having conducted advanced training in the USA. A highly respected Horseman, he is also the Secretary of the Australian Army Veterinary Mounted Troop- a ceremonial mounted association.
REGIONAL REPRESENTATIVES
Western Australia

Linda Scott is an ex- ADF Administration staff member of many years, with the support of her husband Peter an ex- RAAF Military Working Dog handler of is AWAMOs WA Regional coordinator. Linda is an AWAMO Ambassador and is responsible for all AWAMO activities in WA. plscott@ozemail.com.au
 Far North Qld & AWAMO Poet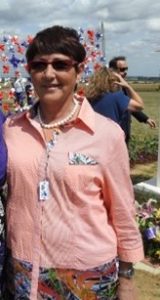 AWAMO is extremely fortunate to have our own poet, Santina Lizzio. Santina is a multiple published author and poet and her war animal poems have been established on monuments world-wide.
Central Qld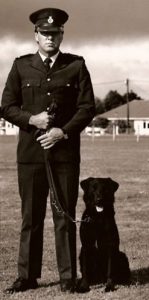 Barrie Gerbic – has a wealth of experience training specialist dogs around the world. Detection Dog Handler NZ Prison Service. Corrective Services Dog Squad Supervisor – Instructor General Purpose and detection dogs.
Dog Master African Barrick Gold Tanzania. Dog recruitment from Czech Republic. Develop and implement training programs and standard operational procedures.
Security Superintendent -Dog Master GRML Solomon Islands. Develop and implement training programs and standard operational procedures.
Dog Consultant PNG Mobil Esso Highlands Project.
INTERNATIONAL REPRESENTATIVES
FRANCE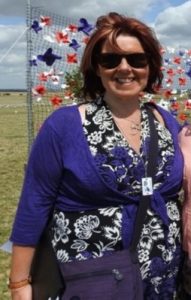 Julie Thomson and her husband David are ex- British residence now leaving and owning a B&B in Pozieres, France. Julie speaks fluent French and assists AWAMO greatly at the AWAMO war animal memorial at Pozieres. David is a well-known Battlefield Tour Guide.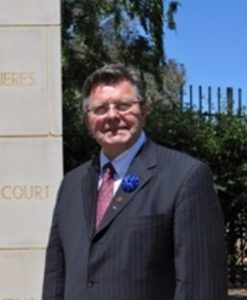 Mayor of Pozieres Bernard Delattre AOM
Bernard was the driving force behind the establishment of the Australian war animal memorial in his village and arranged the land and site. Bernard is also President of the Association pour le Reconstruction de Moulin, which aims to re-establish the WWI Windmill near the Battlefield.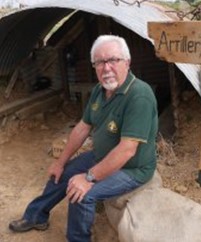 Yves Postard
Yves Potard AWAMO Ambassador. Professor of history / geography at the Lamarck High School in Albert (Somme) Knight of the Order of Palmes Académiques, retired since 2010. President of the Franco-Australian Digger-cote 160 Association created in 2001 in Pozières after having been president of the ANCCRE Association, for the creation of an international meeting centre for young people, in the heart of the historic sites of the Battle of the Somme. The numerous activities of the Association within our territory and in particular during the centenary commemorations of the First World War caught the attention of the State which has just awarded Yves the Silver Medal of Tourism having been recommended for the Award by the Prefect of the Somme.
USA Representatives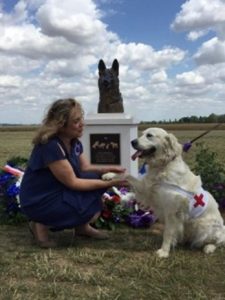 Internationally renowned artist Susan Bahary who sculptured the WWI War animal memorial at Pozieres and sculptor to several other Australian and International animal memorials is our USA representative and AWAMO Ambassador. mail@baharystudios.com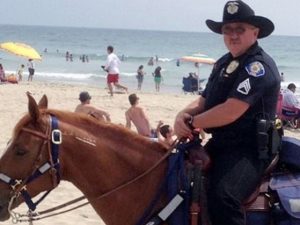 Rick Wagner Garden Grove Police Department, California, USA after 33 years' service.
Patrol Sergeant and Mounted Sergeant. Rick has served as a Board Member of the California Mounted Officers Association. Expect in Trail Trials & Sensory Training. Rick has served with the California State Horsemen's Association for many years. State Champion at the CSHA Trail Trials State Championships in 2012 he was inducted into the Norco Horse Town USA Hall of Fame for that State Championship title.
CANADA Representative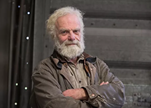 AWAMO Canada David Clendining (Artist-Canadas War animal memorial) has dedicated his life thus far to perusing and mastering a wide variety of artistic disciplines. David has been a part time teacher for at least twenty years in colleges, schools and universities throughout Canada. Art Director for the CTV network at CJOH TV Ottawa for ten years. In the latter years David started his own company called Summit Studios. Today, David Clendining-Summit Studios specialises in design and fabricate museum displays, murals, sculptures, models, and designs and builds movie sets and FX for productions.
 AWAMO UK Representative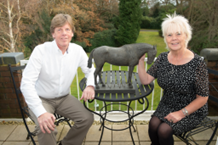 Alan Carr MBE- under UK War Horse Association.
After 20 years running his own property business in Ascot High Street, Alan is now content to devote the rest of his life to the charity world. He was the Founder Director of the Ascot Charitable Trust and worked with over 40 charities during his seven- year term as Chairman, which included hosting an event at Kensington Palace with Princess Michael of Kent. He also hosted a fundraising dinner on board The Royal Yacht Britannia for the Haig Housing Trust campaign, Coming Home. Alan is a principle member of 'Team Sophie' who bought Rio, the horse on which Sophie Christiansen OBE won her three Gold medals at the London 2012 Paralympics. He was also a Trustee for Buckinghamshire Riding School for the Disabled. In 2008 Alan was awarded an 'Outstanding Contribution Award' by the Royal Borough of Windsor & Maidenhead and in 2010 received an MBE for his 'charitable services'.
NEW ZEALAND REPRESENTATIVES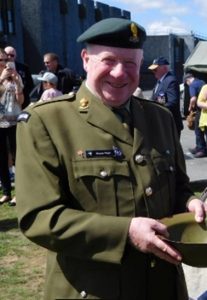 Captain Bruce Page NZDF
Bruce is both AWAMOs NZ Representative and a serving member in the NZDF but also the President of the NZ Blue Cross committee that works alongside Blue Cross Australia (Run by AWAMO) that selects medal recipients in NZ.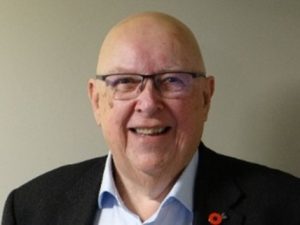 Rodger Parton Deputy Provost Marshal
Joined RNZAF in January 1964, transferring to the RNZAF Police in 1966.  Selected as one of the first for Dog Handlers in 1967 to be trained by NZ Police for patrol duties at Base Auckland, principally guarding the P3B Orion aircraft.  Deployed as a Dog Handler for three years before being posted to Shelley Bay in 1970 and the following year to Singapore for two years.  In 1974 returned to Defence Headquarters and in 1975 posted t Woodbourne as i/c Police Flight.  Posted back to Provost Marshal's Office in Air Staff in 1977 commissioned and appointed Deputy Provost Marshal.  Responsible for trade testing dog teams on completion of their training from1977-1984.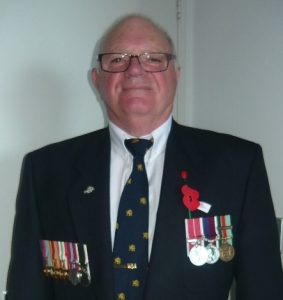 Colin Waite BEM WOFF (Rtd) RNZAF Police Corps
Colin is a long-time friend of AWAMO President, he brings both ceremonial advice and expertise in military matters to our charity. Colin is highly respected in the NZ community and holds a Queens honour award.